Structural Materials Menu | Metal Products Supplier
Engineering Materials Menu
This webpage details Section Properties for Structural Steel Angle BSI BS EN 10056.
Structural Steel Angle Equal Leg Section Properties: This European Standard specifies requirements for the nominal dimensions of hot-rolled equal and equal leg angles. This European Standard does not apply to angles with square roots. Tolerances for equal and unequal leg angles are given in EN 10056-2.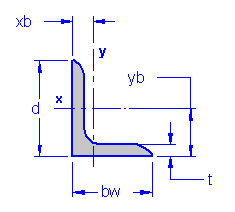 Shape Designation
d x bw x t

Section Dimensional Data

Inside Corner
Radius

External Edge
Radius

Area of
Section

d (mm)

t (mm)

R1 (mm)

R (mm)

A (cm2)

250 x 250 x 35

250

35

18

9

163

250 x 250 x 32

250

32

20

10

150

250 x 250 x 28

250

28

18

9

133

250 x 250 x 25

250

25

20

10

119

200 x 200 x 24

200

24

18

9

90.6

200 x 200 x 20

200

20

18

9

76.3

200 x 200 x 18

200

18

18

9

69.1

200 x 200 x 16

200

16

18

9

61.8

180 x 180 x 18

180

18

18

9

61.9

180 x 180 x 16

180

16

18

9

55.4

160 x 160 x 15

160

15

17

8.5

46.1

150 x 150 x 18

150

18

16

8

51

150 x 150 x 15

150

15

16

8

43

150 x 150 x 12

150

12

16

8

34.8

150 x 150 x 10

150

10

16

8

29.3

130 x 130 x 12

130

12

14

7

30

120 x 120 x 15

120

15

13

6.5

33.9

120 x 120 x 12

120

12

13

6.5

27.5

120 x 120 x 10

120

10

13

6.5

23.2

120 x 120 x 8

120

8

13

6.5

18.7

100 x 100 x 15

100

15

12

6

27.9

100 x 100 x 12

100

12

12

6

22.7

100 x 100 x 10

100

10

12

6

19.2

100 x 100 x 8

100

8

12

6

15.5

90 x 90 x 12

90

12

11

5.5

20.3

90 x 90 x 10

90

10

11

5.5

17.1

90 x 90 x 9

90

9

11

5.5

15.5

90 x 90 x 8

90

8

11

5.5

13.9

90 x 90 x 7

90

7

11

5.5

12.2

90 x 90 x 6

90

6

11

5.5

10.6

80 x 80 x 10

80

10

10

5

15.1

80 x 80 x 8

80

8

10

5

12.3

80 x 80 x 6

80

6

10

5

9.35

75 x 75 x 8

75

8

9

4.5

11.4

75 x 75 x 6

75

6

9

4.5

8.73

70 x 70 x 10

70

10

9

4.5

13.1

70 x 70 x 8

70

8

9

4.5

10.6

70 x 70 x 7

70

7

9

4.5

9.4

70 x 70 x 6

70

6

9

4.5

8.13

65 x 65 x 7

65

7

9

4.5

8.7

60 x 60 x 10

60

10

8

4

11.1

60 x 60 x 8

60

8

8

4

9.03

60 x 60 x 6

60

6

8

4

6.91

60 x 60 x 5

60

5

8

4

5.82

50 x 50 x 8

50

8

7

3.5

7.41

50 x 50 x 6

50

6

7

3.5

5.69

50 x 50 x 5

50

5

7

3.5

4.8

50 x 50 x 4

50

4

7

3.5

3.89

50 x 50 x 3

50

3

7

3.5

2.96

45 x 45 x 6

45

6

7

3.5

5.09

45 x 45 x 5

45

5

7

3.5

4.3

45 x 45 x 4.5

45

4.5

7

3.5

3.9

45 x 45 x 4

45

4

7

3.5

3.49

45 x 45 x 3

45

3

7

3.5

2.66

40 x 40 x 6

40

6

6

3

4.48

40 x 40 x 5

40

5

6

3

3.79

40 x 40 x 4

40

4

6

3

3.08

40 x 40 x 3

40

3

6

3

2.35

35 x 35 x 4

35

4

5

2.5

2.67

30 x 30 x 5

30

5

5

2.5

2.78

30 x 30 x 4

30

4

5

2.5

2.27

30 x 30 x 3

30

3

5

2.5

1.74

25 x 25 x 5

25

5

3.5

1.75

2.26

25 x 25 x 4

25

4

3.5

1.75

1.85

25 x 25 x 3

25

3

3.5

1.75

1.42

20 x 20 x 3

20

3

3.5

1.75

1.12

© Copyright 2000 - 2021, by Engineers Edge, LLC www.engineersedge.com
All rights reserved
Disclaimer | Feedback
Advertising | Contact | Privacy Policy
Date/Time: